When you are feeling low, worried, or confused about how you are feeling, then it can seem like even more effort to start trying to figure out what help you need.
Have you been struggling to be yourself when you are with friends or colleagues? Do you find yourself going over and over all the worst case scenarios of what might happen or what people might think? Do you have intrusive thoughts, images or memories that you can't get rid of and stop you from doing what you want? 
This is where therapy can help.

I offer evidence based therapies for a wide range of difficulties. Cognitive Behavioural Therapy (or CBT) is the go to treatment for depression and anxiety difficulties such as panic attacks, social anxiety or OCD.
If you're struggling to overcome a traumatic event in your life, I am also trained in Eye Movement Desensitisation and Reprocessing, or EMDR for short. While this approach might seem a little intimidating from the name, I have seen in work wonders in reducing symptoms of PTSD, such as nightmares and flashbacks, no matter how long ago the event took place.
I believe that everyone can benefit from therapy. So, if your anxiety or depression is saying "this isn't for you" or "you are too ill" or "you're not ill enough", then please get in touch. This is the cruelest trick that they can play on us – that despite all our pain, we are not worthy of care. I am here to say that you are, and that everyone deserves help and support.

If you would like to arrange a free 20 minute telephone consultation please contact me today.
I also provide supervision to other CBT therapists.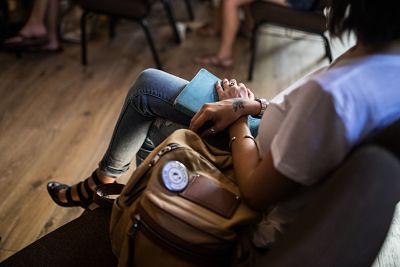 Cognitive Behavioural Therapy
Cognitive Behavioural Therapy, or CBT, is exactly what it says on the tin:
Cognitive = how we think
Behaviour = what we do
In therapy, we focus on how there are two areas that can effect how we feel.
We know that there is a very close link between thought, feelings and behaviour. What this means is that if we make a change in one area, it will create a change in the others. 
In therapy we can target both of these areas to improve how you are feeling and help you start to make different choices in how you act and think. We might look at something you are doing, (e.g. avoiding certain things) which may be working as a short term strategy but is preventing you from moving forward in the longer term.
Or, we could explore your thoughts, looking for patterns that tend you trip you up time and time again.  We then use strategies to help you challenge your thinking and test your assumptions. 
Is it all just positive thinking? No.
I like to think of it as being like a scientist. I'm ready to believe but I need to see the evidence first. Some times life is hard or just plain sucks, and thinking that it doesn't is not going to help at all. CBT uses techniques to challenge thinking and test thoughts for accuracy.
 We might discover that our thoughts are not completely true, that they were skewed by anxiety or depression. When this is the case and we see the reality, often people feel differently and likely more positive.
 However, if we discover that things really do suck and it isn't just how we are thinking about them, then we need to make changes to the situation. We can problem solve and plan what actions to take next to improve what is going on.
If you would like to learn more please contact me to make an appointment. 
Eye Movement Desensitisation and Reprocessing
Are you struggling to move past a traumatic event in your life? Do you have nightmares or dreams about it, that scare you and effect your sleep? Or do you have vivid pictures/feelings that make you feel you are back in that event?
As a result you may be avoiding certain people, places or events. You may feel like you are on edge or on guard all the time.
If this is the case, it may be that EMDR would be suitable for you. It is a specialised therapy for the treatment of trauma and PTSD.
EMDR works by helping you to process stuck memories, allowing you mind to store them away They will no longer feel like they are happening now, but feel more like other normal memories from the past. As a result nightmares and flashbacks will fade, and that on edge feeling will reduce allowing you to get back to your life.
If you would like to know more, please contact me to make an appointment.
I have always enjoyed supervising others. I have over five years experience supervising within the NHS, with colleagues across multiple stages of training, including PWPs, trainee therapists, newly qualified and fully qualified CBT therapists. 
I am a BABCP accredited practitioner. I practice CBT and EMDR, but I have additional training in both CFT and ACT. 
I enjoying sharing my knowledge and expertise but also helping my supervisees improve their practice and build their confidence.
Supervision sessions cost £80 and can be face to face or via Skype. 
If you would like to enquire further, please contact me, and we can arrange an appointment to discuss your main goals, focus of supervision and frequency of sessions.